If you were to ask most people where they go for bedroom storage they would more than likely say freestanding wardrobes, available from any high street department store. Generally sold in a variety of different styles freestanding furniture is a great way to storage your clothes quickly and at minimal cost.
There are a few drawbacks to buying catalog furniture however as most freestanding wardrobes are built to a common size with a one size fits all philosophy. This generally conflicts with most new homes as the freestanding wardrobes leave a large amount of dead space both at the top and the sides of the wardrobe, creating a real headache if you have more clothing than you can store.
While the look of the wardrobe is certainly relevant for the overall theme of the room, the layout and potential space inside the wardrobe is an important factor in any design. As the main function of the wardrobe is to hold all of your clothes, shoes and other storage features it is not ideal to leave large areas of the space unused, as the amount of practical storage is limited.
With the inside of the wardrobe being important you may also find flat pack furniture can be restricted to a limited choice of options. For instance, should you have a lot of long dresses and coats then you can buy a tall wardrobe with a high rail, keeping the clothing off of the floor. Alternatively if you mainly use you wardrobe for casual wear such as jumpers, t-shirts and trousers you will likely opt for a wardrobe with shelving and minimal hanging space.
Both of these options are OK if you fit into either stereotype, however if you need further storage then you will certainly struggle to customize the interior to suit your requirements. This can be impossible to achieve without affecting the look and the cost of the wardrobes.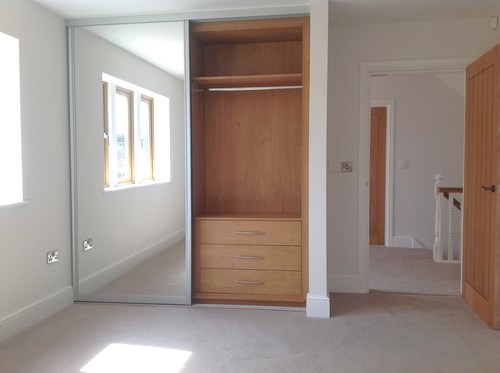 In contrast to a freestanding wardrobe, bespoke fitted wardrobes are custom-made, and built into the limits of your room. With little or no restrictions this gives you the design freedom to use the complete area, from floor to ceiling and wall to wall.
As well as making all of your clothing fit into your wardrobe, custom wardrobes can offer more visual appeal to the overall design of the room. Choosing a custom design ensures that you can completely restructure your wardrobe to your individual needs, guaranteeing you are able to choose a certain colour or style without restriction. With complete freedom to design the wardrobes to your own style and have plenty of storage for your belongings, there is certainly more benefits to having your wardrobes made bespoke.
MORE STYLE AND FLEXIBILITY
Depending which company you choose or the nature of your requirements you will certainly be offered more choice from a fitted bedroom specialist, who can at times offer a design which is completely unique to your own ambitions. For example you may wish to include a full length mirror with a choice of unique coloured glass doors.
In addition you will be able to completely design the interior layout from scratch. This is really important if you have your own ideas of where you wish to put certain items and is a great feature if you would like to put the more commonly used clothing in a certain area of the wardrobe, customizing your wardrobe to fit your exact needs.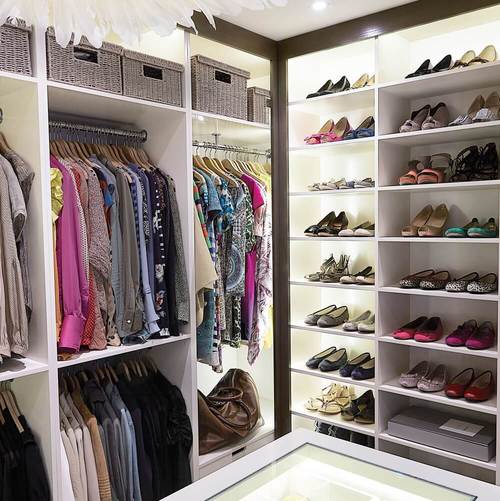 There is certainly more flexibility, making your wardrobes unique to you. You simply design your wardrobes to fit with your lifestyle and leave it to someone else to worry about measure the room. Another reason to choose to go custom as you can be certain the wardrobes will work and fit correctly, so no need to worry about it being too big or too small.
DOES CUSTOM WARDROBES ACTUALLY COST MORE?
It is true that custom fitted furniture costs more than freestanding wardrobes, but the two options have very different benefits.
Life Expectancy – Most fitted bedroom companies cover all products with a statutory 10 year guarantee, which covers most parts/ pieces such and wheels, hinges and the fitting of the wardrobe itself. More of an investment, custom furniture is possibly a cheaper option long term as most freestanding wardrobes are commonly replaced with a more suitable option.
Clothes Storage Space – When comparing the two options by storage volume there is simply no comparison. With no dead areas you can actually double the amount of storage just by choosing a custom solution. You can also save space by reducing the need for added furniture. Using these examples it is more affordable to have custom-made wardrobes built for you, when you think about the extra space you can achieve.
FREESTANDING VS CUSTOM FURNITURE
Deciding which type of wardrobe you should choose depends on a number of factors.
If you rent your property then you will undoubtedly need to ask for your landlord's approval before you start commissioning custom-made wardrobes. They are permanent fixtures which are fitted to the walls, floor and ceiling so most landlords will object to permanent changes as it is something that is difficult to reverse. In addition it is surely unethical to remove the wardrobes when you relocate as they would not fit into your new bedroom in the same way. In comparison freestanding wardrobes are easy to dismantle and rebuilt at your new property.
If you own your own property then there is really only one option if you are looking for a long term solution. Should you have a lot of clothes, shoes, and other storage items a custom-made solution offers instant space and more room to store your clothes. Although fitted wardrobes are slightly more expensive than freestanding units the benefits are massive, allowing you the design freedom to make your wardrobes fit your lifestyle perfectly.