If you're looking for ideas to maximise the storage in a smaller room, fitted or 'built in' wardrobes are a great idea. The floor to ceiling capability to seamlessly eliminate gaps and use every inch of space for everything that we need is one of the great benefits. Buying off the shelf or self assemble kits just won't fit the bill and is a wasted opportunity – its a much better idea to get a designer in and really look at the potential, you may find space you didn't know you had.
TAKE A LOOK AT THESE REAL ROOMS IN REAL CLIENT'S HOMES...
1. CONSIDER EVERY INCH OF SPACE
In this awkward shaped room, we used the ceilings, between the windows, everywhere we could pinch an inch of space.  Even the drawer units were made to just under the window sill to really make the storage count. A gloss finish and tall mirrors helped bounce light around day and evening.
2. MAXIMISE THE POTENTIAL OF SLOPING CEILINGS AND ARCHITECTURAL FEATURES 
This installation sits on a stair bulkhead – what a clever use of this tiny alcove. The client used it for spare towels and bedding, and the angled doors are bi-folded to swing away for easy access. In Cappuccino Gloss, the effect of the sun coming in through the shutters against the shiny finish adds a little glamour, too.
3. DON'T DISCOUNT CUPBOARDS OVER THE BED
In this child's bedroom, there's a handy shelf for bedtime storybooks and brilliant storage above the bed for everything a Princess requires.
This room layout is very common indeed for 3rd bedrooms and its certainly a challenge to balance storage and floor space, each is equally important. A small desk on the other side of the room completes a little of everything in a room that will grow with this little girl into her teens.
4. USE MIRRORS TO CREATE THE ILLUSION OF SPACE
You can't underestimate the feeling of space that floor to ceiling mirrors give. Sliding wardrobes with mirrors start at around £1300 fully installed with all your rails inside – an easy fix for a small, dark room, and mega-practical, too.
5. FILL THE ALCOVES EACH SIDE OF A CHIMNEY BREAST WITH STORAGE
Here, the (unfinished) wardrobes are installed into a typical semi with a main bedroom that has a bay window and a challenging layout. Again, this 1930's room layout is common in our area.
The floor to ceiling wardrobes fit exactly and swallow double height hanging and a huge shelf above for sports bags and carry on cases. The cornice and dentil rail has been used to add character and substance, and the modern Stone Grey colour is bang on trend.
6. EVERY CORNER COUNTS!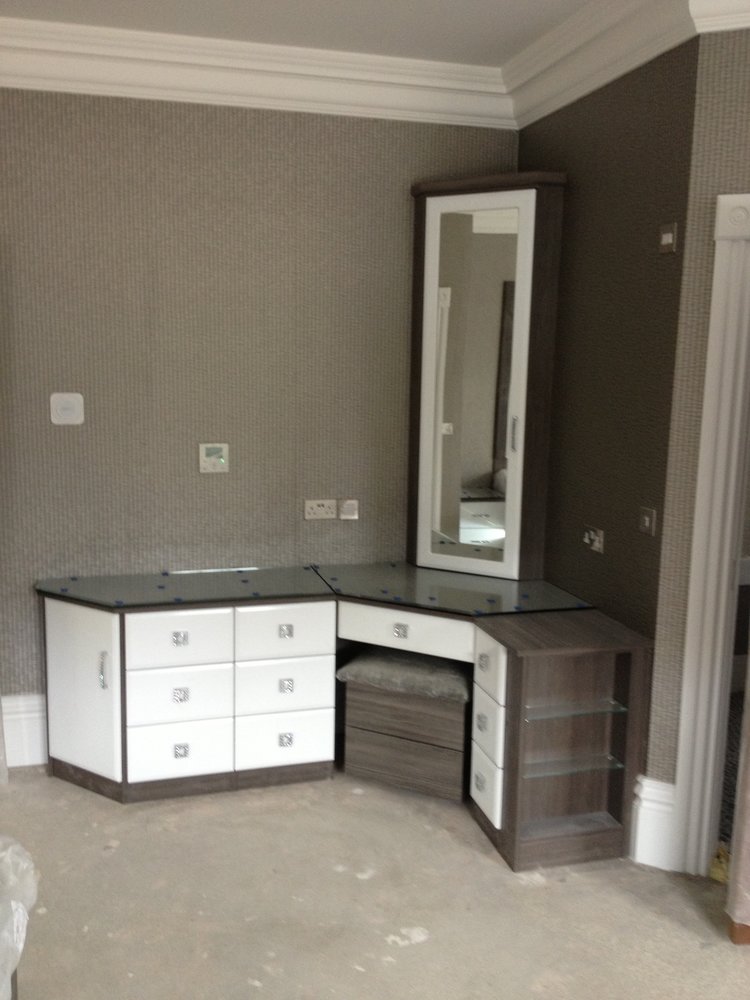 I love how this small corner has been maximised to do quite a few jobs for this young teenage girl's room. The beauty of made to measure summed up.
To sum up, a small bedroom can be a challenge to decorate and furnish. But with the right design advice and clever ideas it can turn into a cosy nest that fulfills the potential of the room. What more can you ask? Why not view our fitted wardrobe and furniture range for some further ideas.