Creating your dream bespoke fitted wardrobe can be tough!
What colours do I need? How do I make it blend in with the rest of my room?
What do I want it to look like?
We Understand
The good news is that fitted wardrobes can be designed to any style that you want and they can even add some value to your home too. Since 1979 we have been understanding our customers' needs and expectations and have taken the stress out of the equation. As experts in design and installation, we can guarantee that with our help, you can get the right wardrobe for you whilst offering a five-year guarantee with every piece that we produce.
Your Style!
When choosing your bespoke fitted wardrobe design, you should be passionate about what you are imagining and the practicality too. Reflecting you within our designs is the most important thing for us, we like a challenge no matter the scale!
A top tip is to be unique, make your bedroom your own but putting in a wardrobe with the highest-grade materials which we can provide you to ensure the durability and quality that you need to have your dream design. There are so many different styles to choose from, 137 of them to be exact! Whether you like a modern and contemporary feel or a traditional wooden design – we can help you decide based on these features.
Although we can advise you in any way possible, we want you to have the final say – remember, it's your decision!
Storage Space
Whatever style you choose, you also need to consider the functionality of the product. Whilst a fitted wardrobe can maximise the space within the bedroom, keeping your wardrobe organised is a big factor when building a ground idea of the interior. Knowing what you will be storing as maintaining an organised and clutter-free storage space is the main reason why bespoke fitted wardrobes are ideal – so make sure that you analyse the space available.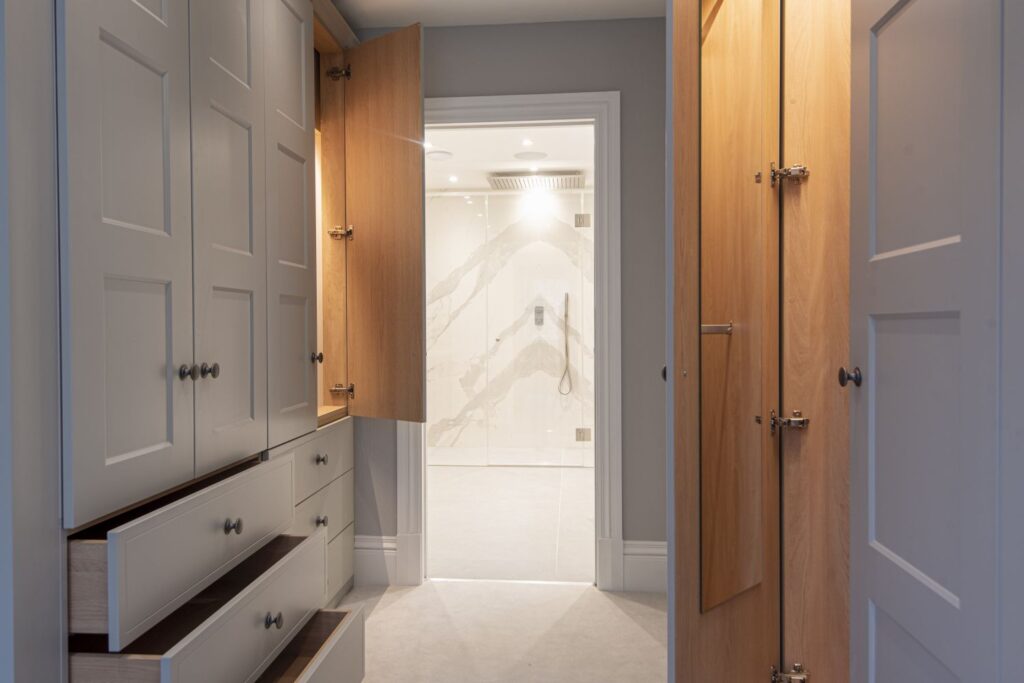 The design which we create will be completely personalised to your room specification and measurements so whether you are looking for a bespoke fitted wardrobe, sliding wardrobe or walk-in wardrobe then we have so many ideas to get you stuck into.
To make the interior of your wardrobe more interesting, perhaps think about some extra storage space such as some drawers built-in or some shoe racks, hanging rails or shelving too. Do not go into this process with a small mindset, we can work around the awkward angles, so if you have sloped roofs or a low ceiling then that's fine too – let's think BIG and work on the aesthetics!
Contact Us!
Get in touch with us to arrange a time to pop into our showroom in Fareham and we can have a cuppa and a chat about your ideas and inspiration with one of our designers.
All you need to do is give us the rough dimensions of the space that we are working with, and we can then send you a CAD design and an estimate quote of the project!
Looking forward to hearing from you soon!