For a vintage look, you can now have it all – the convenience of smooth and fuss free surfaces and textures without the risk of splinters
IT'S THE LOOK OF THE MOMENT, AN UPDATE ON THE SHABBY CHIC TREND – VINTAGE. SEE IT ON ANY HIGH STREET OR HIPSTER BAR,  DISTRESSED, WOODY AND GREY TONES THAT FEEL COSY AND UNDONE.
Mereway Vintage & Bardolino Grey Kitchen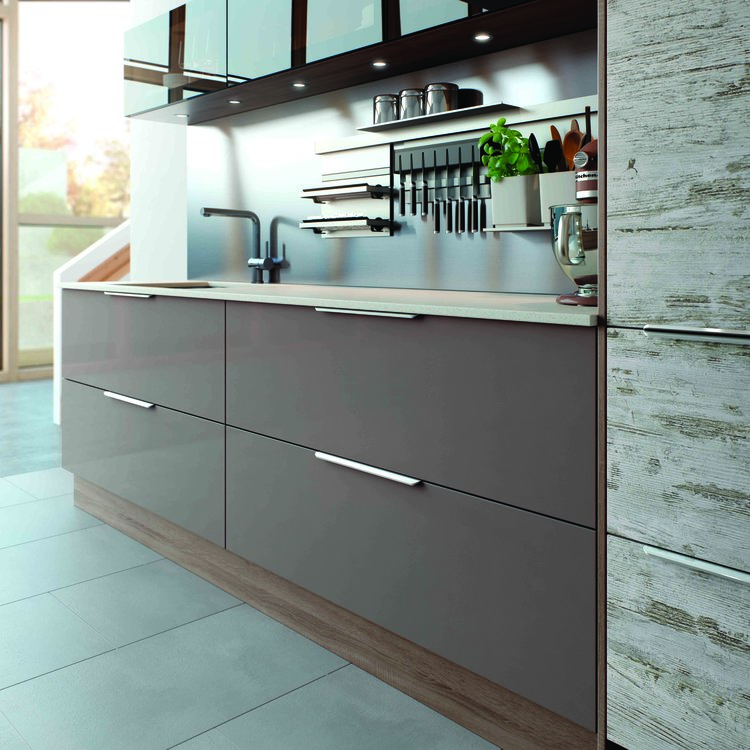 Thankfully, you don't have to make your new kitchen with old pallets or scaffold planks to get this look, because this trend is embraced by manufacturers of modern materials that translate to beautifully easy to clean and live with surfaces in both colour and texture. Burnt Oak with a truly touchable surface can be teamed with distressed or driftwood effects, all easy to clean, stable for years.
Clients who in the past chose from White or Ivory are now having fun with horizontal grain direction, saw cut finishes and combining colours. They use these textures and colours in any aspect of design, mix them together equally, or highlight in just an island. If you visit our fabulous showroom, you can put samples together and speak to our friendly, expert designers who will produce a beautiful design for you to project these great surfaces onto.
As the above photo, you can totally create your own look by highlighting with a smooth and glossy surface, or one our gorgeous supermatts.












What a change and a challenge to specify each and every aspect of your new kitchen, making it absolutely yours.
CALL US ON 01329 822446 TO ARRANGE A FREE DESIGN APPOINTMENT OR VISIT OUR SHOWROOM TO GET SOME INSPIRATION FOR YOUR NEW KITCHEN – OR BEDROOM.
Contact us or visit our luxury showroom in Fareham.