So you've already made the choice of sliding doors as opposed to traditional free-standing hinged wardrobe, but now you are considering the benefits of a mirrored sliding door wardrobe.
Well, you've come to the right place. Besides the obvious benefit of offering a mirror to see your reflection, there are many other key benefits of mirrored sliding doors that you may want to consider. 
Mirrored sliding doors offer a vast multitude of styling and personalization options that just aren't available in a catalogue. Considering that mirrored sliding doors can come completely made-to-measure, made in a variety of styles and materials you could have mirrored doors made bespoke to your bedroom. You can add variations such as lacquered glass, decorative mirrors, colored glass, shaded glass, partly frosted mirrors, wood grains or even a combination of all of these materials.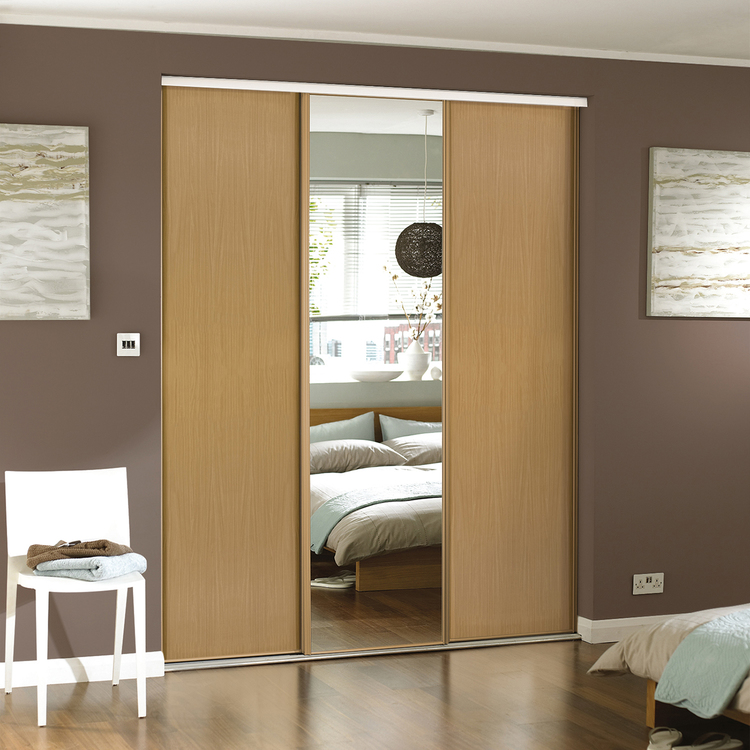 The choice is all up to you and this is a unique personalization feature that most manufactured hinged door wardrobes do not offer. This is a great choice for those who are trying to create a unified and cohesive bedroom design. 
Since mirrored sliding doors offer so much in terms of custom personalization, they also offer options for multiple uses. They can be designed to fit in seamlessly in any room of the home, from the home office to the living room, the bedroom or even as a closet in the hallway. Some people even choose to include them in their home gyms and we have also used them for a ballet studio, to be used as a mirror for dance and other exercise practice sessions. 
Another great benefit of installed mirrored sliding wardrobes is that they effectively make the room in which they are installed seem larger and more open. This is a great option for making a small room seem large. With this in mind, mirrored sliding doors while notorious for adding size appeal to a room are also a great choice in terms of ease of access. Simply slide open one mirror door as opposed to having to open several different hinged doors.
Sliding wardrobes also allow you to maximize the space of a room. Hinged wardrobes tend to jut out from the wall but sliding wardrobes allow a wardrobe to be built within an alcove, therefore taking full advantage of the available space in your bedroom. This gives you maximum storage space without all the fuss. There are also no swinging doors that impede your walkway.
All in all, sliding mirrored wardrobes are a very popular and desirable choice that many choose to include in their bedroom. If the idea of having a full-length mirror isn't enough to convince you of the benefit of sliding mirrored doors, then hopefully the many other benefits of mirrored doors will convince you that installing them will add style your home and improve your way of life.
Contact our team now for more information.