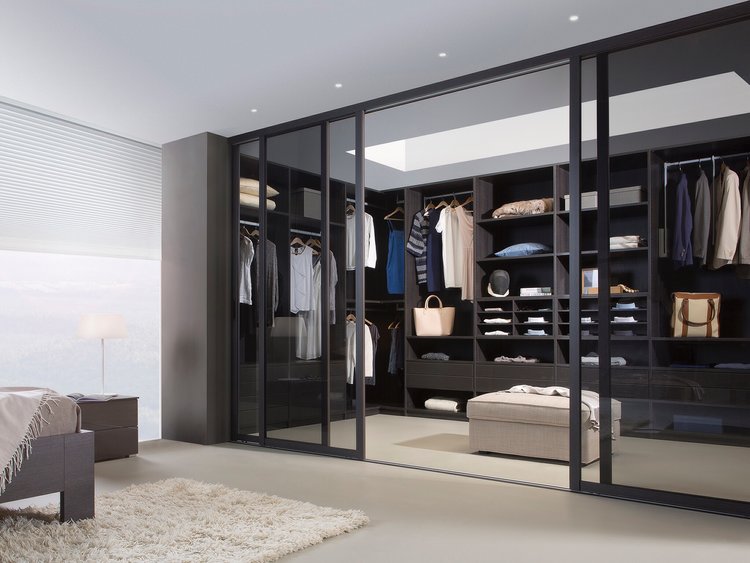 When I ask clients desperate for more storage in their bedroom whether they want to consider a hinged door wardrobe or a sliding door wardrobes, some cringe at the sliding option, thinking of the old creaky MFI mirror fronted type that were installed in the 80's. The newer type are as different from their ancient cousins as a Nokia to an Apple.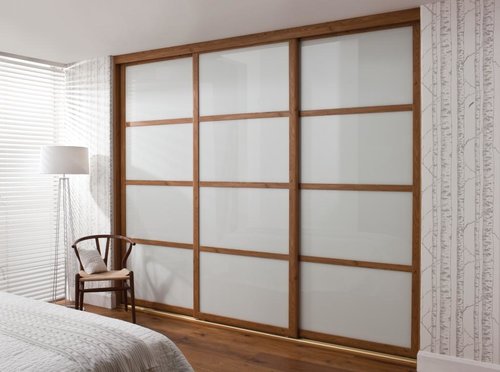 Design? Practicality? All 3 are certainly achievable from my product range as a Deane Designer. It starts with a frame style – if you are shopping for sliding wardrobes particularly, there's one choice in most outlets – Aluminium, in a variety of profiles thick or thin, depending on where you shop – you can have any colour so long as its silver! There are other choices…
Although Deane do stock several silver profiles, there is also an extensive choice of wood looks, some with integrated handles. Also black and chrome if that's to your taste. 
The Europeans have always been leaders in the technology of storage – their homes always have storage built integrally to their house design, and it has to look great as well as perform for years. They constantly update the design to incorporate technology, materials and colours. The most popular sliding wardrobes look contemporary and sleek, unfussy and practical in design and blend into the modern interior.
Back to the client – what are the criteria? Budget? 
11 wood frame colours in Rio with drawer units and other built in units to match give a completely co ordinated look to your bedroom. Take a look at our sliding wardrobes, you won't find a more extensive range anywhere.
What's next after the frame? What goes inside that frame, and in every door is down to your preference. There are a rainbow of colours to choose from as well as mirror and wood effect panels. Lacquer glass is very popular – the coloured glass is addictive because it's so shiny and rich. The reflective surface bounces light around the room without the 24/7 reflection of mirror, and you can bring the colours of your home into the wardrobe front. 
Doors can be sectioned using different textures and colours, broken up with sections of anonymous mirror, or full panels of the same material for a plainer style. 
For something really different, there are a number of 'designer finishes' – which are exciting colours and textures that can be incorporated into panels or even whole doors in leather, velvet, even cut out metal there are hundreds of options.
So – don't discount sliding wardrobes when considering how to get more storage anywhere around the home. We have installed them in conservatories, bathrooms, dining rooms, open plan kitchens as well as bedrooms and dressing rooms. Their floor to ceiling cavernous storage capability swallows up everything you need to hide away. Visit the showroom or call us to arrange a visit or have a price list sent to you.
Please share this article if you've found it interesting, of feel free to comment or ask a question.