A sliding wardrobe that's at home in the country? it's true that sliding wardrobes are space saving and cavernous for storage, and It's usually the space in the smaller rooms that restrict opening doors, hence sliding wardrobe can be a fabulous solution. BUT! There's an issue with the modern sleek, reflective front that ever so slightly jars with a comfy, soft room.
As a designer I often advise clients not to be frightened of mirrors and reflection as they can make rooms feel larger, and only reflect the existing colours and patterns.
The new 'Match Country' wardrobe from Dutch company Noteborn ticks all the boxes when specifying wardrobes in your cottage or country home. Available in a very contemporary palette of White, Anthracite Oak, Cortina Black or Cortina Grey, you can also choose FIVE variations of door panels simple to detailed, it's definitely worth a closer look. The clever integral handle adds finesse and a touch of style.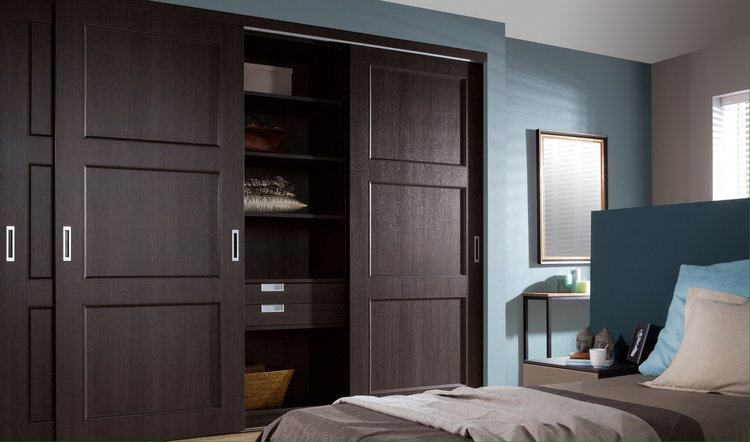 Three panel doors in Cortina Black by Noteborn available at Deane Interiors
This style will work very well with the washed out greys and driftwood effects that are very popular right now. Add a cool pattern like a gingham or houndstooth and some cosy textures like woolly soft arrans and sheepskin, team with hard surfaces of mellow wood and natural slate and brick, and you have a look that's so welcoming to live with and easy to achieve.
We are currently planning a new 'Match Country' display in the showroom, but we do have sample doors to show the beautiful colours and quality construction. Give us a call on 01329 822446 with your sizes for a quick quote of how you can integrate superb storage with a cool modern country look. See Noteborn wardrobes on the Deane website, or download the Noteborn brochure here. 
Shown right, three panel 'letterbox' Style doors in White by Noteborn, available at Deane Interiors