It seems that everyone would love an island in their kitchen. It's a real sought after layout and is frequently on the wish list when planning kitchens for clients. However, there's no point in having one if it's just not going to be practical and functional, or will leave so little floor space so that you're always bumping in to one another or creating impractical alleyways – the space you leave is just as important as the space you fill. But if you CAN create a kitchen centrepiece you will never regret it. An island enhances a kitchen's social side, as well as giving you elbow room to create and work.
HERE ARE SOME COMMON QUESTIONS ABOUT KITCHEN ISLANDS
DO I HAVE SPACE FOR A KITCHEN ISLAND? – Take on board that most practical procedures take place along the walls, storage, sink, ovens etc., you must ensure that all these needs are met before you consider an island if space is tight. The magic number between units is minimum of 1000 mm to 1200 mm. Any less and you will struggle with a corridor that might be impractical. BUT – it's your kitchen, your way so just think carefully what your priorities are. Test it first by sticking masking tape on the floor or put a bulky item like a chair or box of some kind in your chosen space and live with it for a week, you'll know if a smaller space can be workable FOR YOU.
This kitchen island ticks all the boxes for practicality and style
WHAT SIZE WOULD IT BE? 
Obviously this depends on your kitchen, a smaller version from around 1500 mm to 1800 mm, wide and 900 mm deep makes a nicely proportioned set of units that would split a room and allow adequate storage without looking like a butchers block, and a very practical island with possibly space for stylish stools for chatting or casual eating would be 2200 mm wide and 1200 mm deep. The thought of clear, uncluttered worktop space is very appealing. Deane can make your kitchen exactly to measure, so reduced depth or width units to fit your space aren't a problem to us
WHAT WOULD I PUT IN IT?
Incorporating a hob, and lots of deep drawer space is a favourite layout of our Designers – this can free up walls, allowing you to plan tall pullout units if you want them. Tall oven housings in close proximity can incorporate a couple of appliances, an oven and warming drawer, or oven and microwave. You can then simply pull out hot roasting tins and simply turn to place them down safely and with a flourish! A hob in the island facing the room allows you to cook while chatting to your guests or family. Designer's note: A sink attracts the most clutter on a kitchen surface – dishes, cleaning cloths, detergent – unless you (and your family) are very tidy, avoid a sink in the island.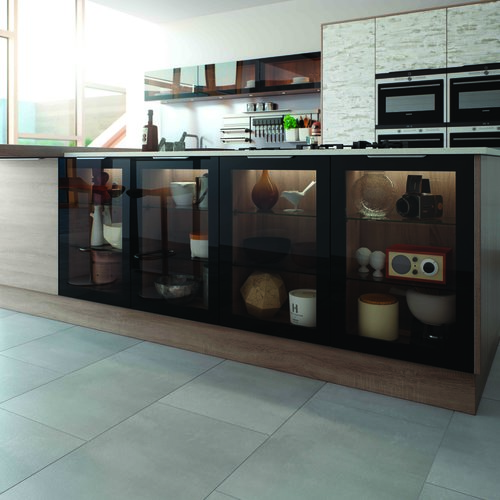 HOW CAN I MAKE MY ISLAND A FEATURE? 
Firstly, an island works brilliantly when it breaks the rules of the main cabinetry. A contrasting cabinet colour is the obvious suggestion. Perhaps you like real wood but don't want a whole kitchen? Just do the island doors or worktops in a real wood and the rest in a softer or more moderately priced finish, this saves on cost and adds interest. Alternatively, use it as an opportunity to play with a bolder or darker colour you aren't bold enough to use all over. Picking up this colour vibe in your soft furnishings and seating to brings the design together.
WHAT WORKTOP SHOULD I HAVE?
A stone or granite worktop is great for an island, especially if you incorporate a hob. You don't need to worry about setting hot things down too much, and splatters can be cleaned off in no time as its very hard wearing. However, most kitchen worktop types have maximum lengths and you might like to avoid a join. You could use different heights and materials to overcome this problem and this also adds great interest and design detail. If you are using some of the island as an eating area, a warmer or textured  surface feels more comfortable for elbows and helps to zone a large area.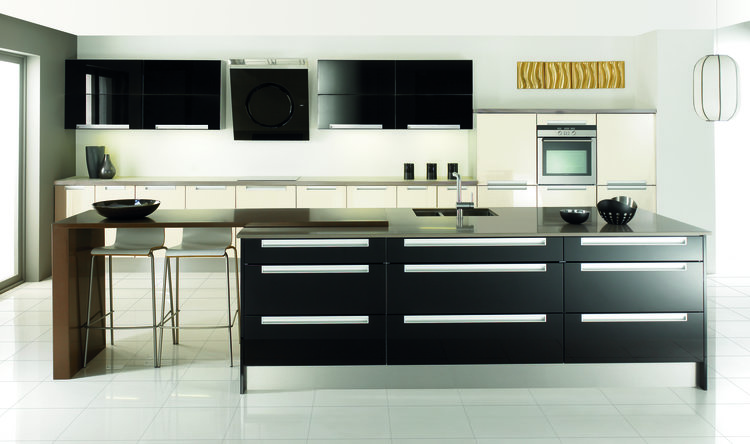 WHAT ABOUT EXTRACTION IF I INCORPORATE A HOB IN MY ISLAND?
This requires careful thought, and there are several options. If you are installing into a new build home, you could integrate a flush extractor in the ceiling, or have your builder make a shallow box in the ceiling for the ducting, which is then plastered and finished like the ceiling, and can include lighting for a theatrical effect. You can buy extractors that look like chandeliers but these are usually expensive. Otherwise downdraft extractors do a good job of dealing with cooking smells and splatter, and recess flush into the worktop when not in use. This one from AEG, the DH1690M costs around £1300 and is available from Deane Interiors.
I hope that this will help you plan an island into your kitchen, please don't hesitate to visit our beautiful showroom for practical advice and inspiration, or call us 01329 822446 to arrange a design appointment at your place or ours.