The term cookie-cutter and Deane's don't really go together – why? Well, because we believe that all fitted wardrobe designs should be innovative, and unique to your exact design preferences and lifestyle. From design to installation, the Deane team are ready to test our creativity and provide you with a truly bespoke storage solution.
Custom-sliding wardrobes are a practical way to substantially increase your storage, but more than that, they also supply a stylish addition to any room of the home.
How Deane differs from other providers
Unlike most furniture designers, we understand the importance of your home's interior design. It plays a massive role in the development of our luxury fitted wardrobe designs. We are incredibly flexible at crafting innovative fitted wardrobes tailored to your preferences and space, perfectly fitting your requirements.
But, don't worry, this custom-built nature doesn't necessarily mean expensive. Starting from just £999, we offer a wide range of affordable sliding fitted wardrobe designs, crafted at the highest quality, designed and fitted entirely bespoke for your home.
Giving you a made-to-measure wardrobe that is not only suitable for practical daily use but also effortlessly stylish, seamlessly integrating with your home's aesthetic.
How we manufacture our bespoke fitted wardrobes designs
There are two main methods of constructing wardrobes, each offering its own benefit and purpose; Carcass and Front Framed. We build using both options to deliver a solution that fits your individual requirements and style preferences.
Carcass Wardrobes
Carcass wardrobes are fully enclosed boxes covering all flooring and walls. They offer a great internal and external aesthetic that seamlessly fits your individual storage and style needs. This design makes them a sturdy and stable choice while helping to protect the contents from dust and moths as it is effectively sealed from the outside.
That being said, you must check with the supplier how thick the panels used are, as you don't want thin panels that will only last you a few years. At Deane's, we use 18mm solid panels for the wardrobe's top, bottom, side, and back ensuring a robust wardrobe that stands the test of time.
Carcass wardrobes are best for people looking for a wardrobe that will provide the neatest, strongest and most long-lasting solution for built-in wardrobes with traditional hinged doors.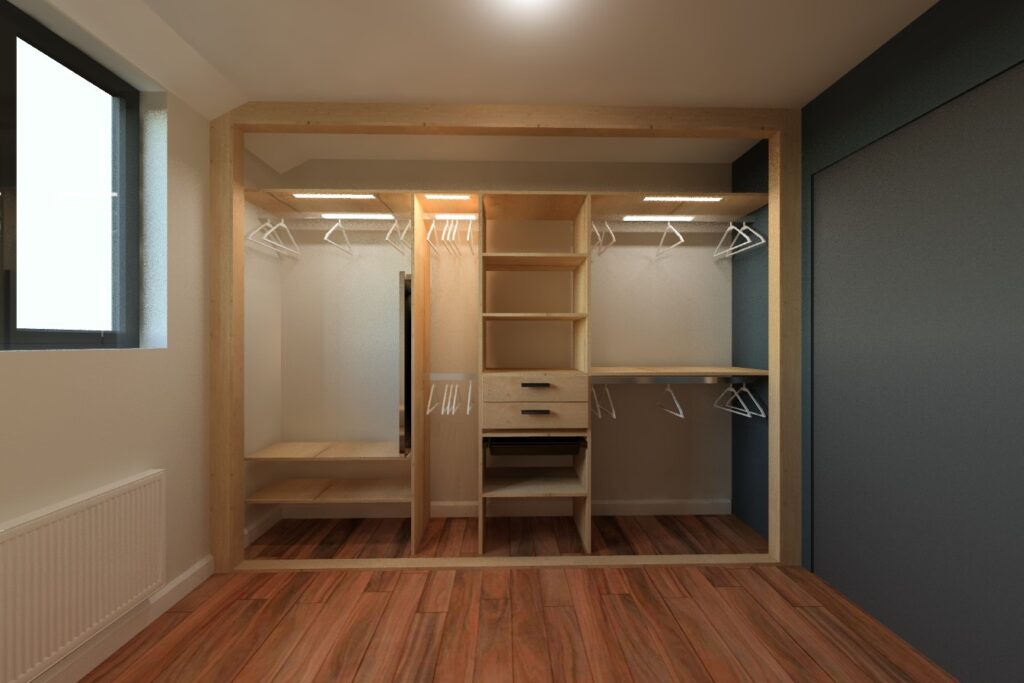 Front Framed Wardrobes
Instead, as the name suggests, front framed wardrobes just consist of a front frame of the wardrobe, including a bespoke sliding door. This often includes a mirror to provide some additional functionality to the piece, not to mention helping make the room appear larger. 
Beyond the doors, the wardrobe's interior does not include an internal carcass and is made up of the walls and flooring of your home. The internal storage solutions such as railings and shelves can still be installed but just won't be internally enclosed.
The front framed option is typically best for people looking to add a sliding wardrobe in an unusual area or space with limited room as it utilises every inch needed for storage, wasting no room with inside panels.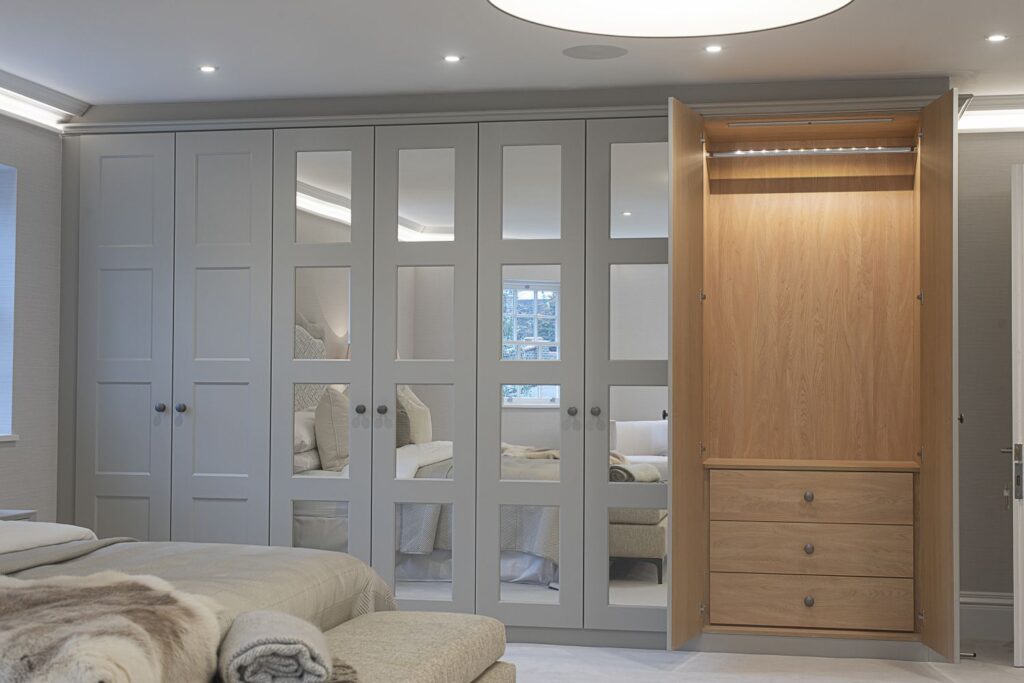 Walk-in Wardrobes
We have been designing bespoke dressing rooms and walk-in wardrobes for clients throughout Hampshire for over 35 years. If you have a spare room in your home, our team can manufacture and install a bespoke walk-in wardrobe tailored to your own requirements.
Here we can craft a clothes haven where all of your clothes, shoes and accessories can be stored in a design to fit your unique lifestyle. The Deane team have been known to go above and beyond. We don't see awkward fixed features as an obstacle, but instead a challenge to overcome and deliver a product that is amazing! We're super proud of our creative designer's innovation during this fitted wardrobe installation in a loft to carefully consider blending awkward fixed features into a smooth and integrated finished design.
Get your innovative wardrobe designed today
When it comes to bespoke fitted furniture, innovation comes in all shapes and sizes. At Deane, we're with you every step of the way – from the initial design through to installation. Ensuring your fitted wardrobes are exactly what you were after, no matter how big or small your project may be. 
Want to find out more about bespoke fitted furniture for your home? Visit us in our Fareham showroom to get some inspiration on what beautiful and intelligent storage you could create. No appointment is necessary, just pop in anytime between 9am – 5pm Monday through Saturday, and the design team will guide you through the entire process from start to finish.
If you're still unsure, book a 60-minute design workshop with our design director. These insightful workshop-style consultations will better help us understand your storage goals and show you our wide range of fitted wardrobe designs, tailoring them to your exact requirements.
After this we can have an expert designer arrange a home visit to measure your space and help you discover what is achievable. Our designers are experts in creating bespoke solutions for your storage needs. Getting the most out of your space, while tailoring to your lifestyle needs