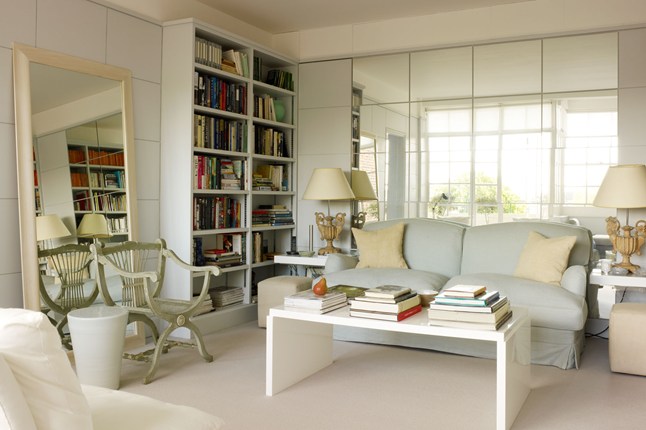 When pressed for space in a smaller house or flat, many people find that their creativity and positivity suffer at varying degrees. This can happen due to a number of reasons, whether it's because of feelings of claustrophobia or an aversion to stale air or stuffy spaces. In either situation, having a tiny room can contribute to feeling uneasiness at home, which makes for a very negative living arrangement.
Depending on the living situation, a person can be tied to a property for a year-long lease, or even longer, so finding yourself in this kind of situation could be stifling in the long run. As a result, it's important to know not only how to maximize the space utilized in a room, but how big the room itself feels. While there are actually many great ways to do this, one generally accepted method for maximizing the size of a room's feel is to have mirrors present. 
A mirror's reflective surface can be used in a number of instances. Most houses and flats have them at various points within the layout, many having at least one in their bathrooms, and then scattered throughout the rest of the house. In a smaller property though, the most likely place to find the only mirror would be in the bathroom, if anywhere at all. While it makes most sense for a mirror to be in the bathroom (mounted on storage cabinets or directly on the wall), the bathroom is far from the only room that can benefit from having a mirror. 
The bedroom of a small house or flat can benefit from having a mirror in it in a number of ways, but one of the more notable ways is the way the mirror makes the bedroom instantly feel bigger. Of course, the bigger the mirror, the bigger the room will feel as the reflection adds depth to the room effectively doubling the illusion of space. 
The addition of a mirror will also direct light to parts of the room that may not have necessarily been exposed to it originally thus creating a brighter open space.  Most people who employ this choose a full length or wardrobe door mirror, so as to get a mirror the size of their entire body. Wardrobe mirror doors are the most effective for space-maximization as they reflect more light back into the room whilst also providing beneficial storage space. 
Adding mirrored sliding doors to any room is a great way to make any room feel bigger instantly, and will overall improve the atmosphere eliminating anxiety or negativity from the moment they are installed.