In modern homes the trend is to add more bedrooms at the expense of the room size. The square footage of a three bedroom home now makes four, and this comes at the sacrifice of the room sizes.
In older cottages, in addition to the already somewhat cosy spaces, we often struggle with awkward features in the bedroom such as angled or low ceilings, chimney breasts and alcoves.
So, most everyone could benefit from making their space feel bigger, and here are some tips;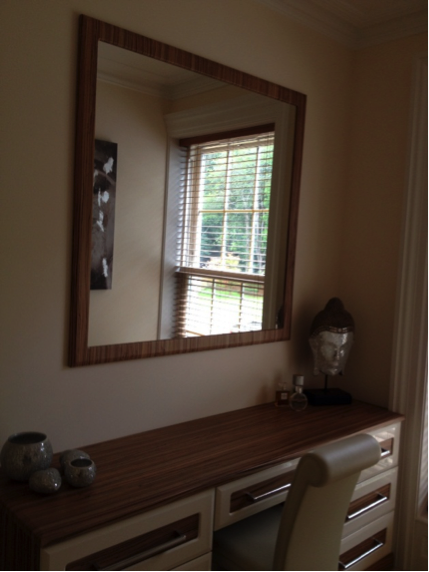 1.  Maximise the light – use mirrors wherever possible, opposite a window is the best place for a big mirror to bounce light around the room. If you don't have space, then mirrors on the window reveal and/or window sill can have a great effect. Deane have a mirror effect MDF that can be cut to size and used almost anywhere. We use this great material in our showroom where we have glued it to the wall and screwed chrome cabinet knobs into it to hang necklaces from, two jobs in one!
2.  Window treatments – curtains are cosy and warm, but blinds or shutters can open up the walls each side, making the space appear larger. There are so many styles and colours available, it's worth a bit of research before you dismiss them. Those extra bits of wall can then be used to hang mirrors or pictures, adding detail and reflection.
3.  Adding lines – Sculpted or tongue and groove boarding is a great way to add a theme and elongate walls, or to hide ugly uneven plaster or alcoves. Forget the superstore packs of cheap softwood that warps, Deane can supply 8' x 4' sheets of 8mm thick MDF that's is moulded in traditional T&G style, either bare to paint yourself, or wrapped in any of our glorious colours.
This is a sculpted panel in white gloss to accent a dark windowless bathroom. Try Avola for a beachy theme, or Walnut to add character. We can also supply ready wrapped skirting to finish the job. Another way to add lines is to hang a striped wallpaper horizontally, giving the illusion of a smoothing and blurring corners.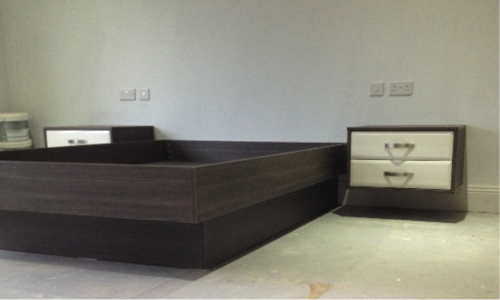 4.  Less is more – it's hard, but do try to minimise things that sit on the floor. Just try for a bed, wardrobe, chest or dressing table. Linen baskets inside the wardrobe or in the bathroom. Wall hung bedside units to achieve a more spacious look are becoming more popular, and with the flexibility of our manufacture any of our range of bedsides can be wall hung and not just the modern style. Avoid pleated valances, either a simple box valance or none at all will avoid detail at floor level. Try making your own with some light coloured velvet and a staple gun.
This nearly finished project called for a simple minimal and modern look, we made the bed with a tucked under base and hung the bedside units. Colours are Flint Grey Avola and Gloss Snow Larch.
5.  Great lighting – never underestimate the importance of lights in your bedroom scheme. You wouldn't neglect this detail in your kitchen or lounge, and in the bedroom it's so important and makes a huge difference. Layer in three ways, main ceiling light, mood lights on the dressing table or bedsides, and task lights for make up or inside the wardrobe. There are a great range of movement sensitive and re chargeable lights available as a part of your bedroom design, so lack of electrical source is no longer an issue.
Note the clever lighting in this en suite, in the alcove and under the wall unit.
6.  Make the most of made to measure – lower the height of your run of units to whatever you want, and perhaps use a cushion to make a seat. This gives the feeling of wider space, and really works, but remember that for dressing table where you need to get knees under, it's not practical.