You use it and see it every day but it can be overlooked more than you realise. What is it? Your floor!  As something that does not get changed very often (if at all!), it is very important to choose the type of flooring to suit your needs for years to come.  With a variety of simplistic carpet to extravagant decorative laminate to choose from: the right choice can make the difference to each room or even your whole home!
There are many types of flooring but they tend to fall under the 5 following categories:
Laminate
Tile
Hardwood
Carpet
Stone
The best way to consider flooring is room by room and what the needs for each of that room.  This will include hallways, lounge, kitchen, bathroom and bedrooms.  So we're going to take a look at every room individually and the requirements for each one.
HALLWAY FLOORING
The hallway has extremely high traffic so the need for a floor with easy maintenance is key.  Personally, we would suggest choosing laminate floors.  Not only is it low maintenance but laminate flooring is scratch resistant (perfect if you have pets!) and comes in a variety of colours.  Why not try and create a fancy floor design?  This will create a great talking point to new guests to your home!
KITCHEN FLOORING
This is where the most mess is likely to happen – especially if you have children who love to help with the cooking!  So, the best quality to look for in the flooring here is for it to be water and stain resistant.  We suggest looking at tile to suit every style of home with its variety of colours and finishes.  You could also look into having a stone floor installed for a more rustic country look.
BATHROOM FLOORING
The room steams up and the last thing you want is for a build up of moisture on the carpet.  So choosing to tile is a no-brainer and the go-to decision.  Or is it?  Ever thought about using rubber flooring?  Perhaps not a conventional choice for the home but take a moment to think about it.  Rubber is impermeable to water and is actually pretty easy to clean without the worry of cleaning tile grouting.
LOUNGE FLOORING
As the communal area of the home, the lounge requires comfort and practicality.  With that in mind, the flooring best suited for this room would be laminate or perhaps hardwood.  We would suggest "softening" the hard floor by including a large rug in the centre of the room underneath comfortable sofas creating the cosiness that everyone wants.  This means that the floors are able to withstand relative amounts of traffic and still maintains the "lounge" factor.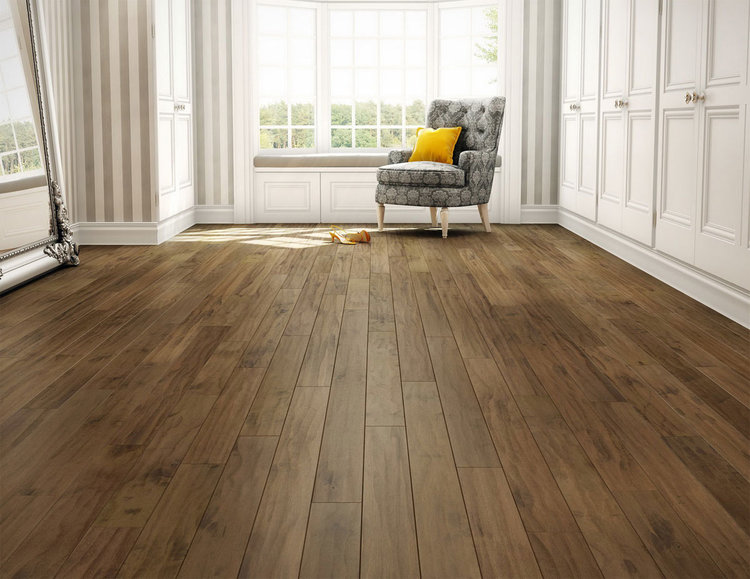 BEDROOM FLOORING
A common factor in the bedroom is luxury and the ability to relax.  The usual flooring choice for a bedroom is carpet – when climbing out of bed no one likes to put their feet on to a cold surface so there is nothing wrong with convention here!  We love the feel of a heavier pile carpet between our toes, the only problem with it though is it is very easily indented by furniture.  If you like to rearrange your room more often than not, then shorter pile is for you! 
Here at Deane Interiors, we are happy to help and can install our bedroom and kitchen units to any type of flooring.  Book your free no obligation measure and quote today and take the first steps to revamped and organised home!