We speak to new clients on a daily basis and the single biggest challenge they find when decorating their bedroom is finding the right design for them. The biggest dilemma is almost always maximising the amount of practical storage whilst regaining an element of space.
At Deane we start from the bottom up. This makes it very easy to achieve a spacious room with a ton of storage. As a rule we understand your individual storage requirements before starting a design. This way we built a design around you, rather than building a great looking room which is difficult to navigate. Nobody wants that.
Below we have compiled our 4 design musts, to achieve storage bliss.  
1. LOCATE YOUR BED
Every bedroom has a bed. So this is a great place to start. 
A crazy fact we find is over half of the bedrooms we come across are designed with the wardrobes and the bed in direct conflict. This results in an inaccessible room.
We consider the bed a central part of any bedroom. We believe the bed should work in harmony with the rest of the room, including the fitted wardrobes and bedroom furniture. 
TIP: Think about how you use the room, or how you intend to use the room when it is finished. The most important consideration is understanding how the room will be used. This includes making sure the bed is not positioned in a highly circulated area; like next to the en suite for example.
2. THINK BIG!!!
Don't be afraid to dream.  
Almost all of our clients are surprised with the wardrobe storage they achieve.
Storage doesn't need to be restricted. With our made to measure service Deane can make use of the whole of your wardrobe space. We do not believe in large fillers or unnecessary black spots. We leave that to the standard sized companies.  
TIP: Take a minute to set yourself a storage goal. Whether it is to finally find a home for everything, store your 100+ pairs of shoes or even just giving you more room to store suitcases or seasonal wear.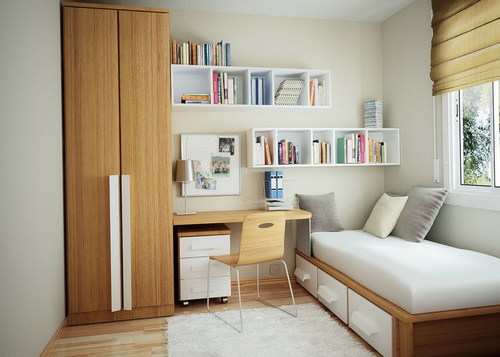 All of our clients are in search of a larger feeling bedroom. This is a fact.
It is proven that people are generally more relaxed inside a bigger bedroom. 
Usability is one of the most important considerations of any design which is why we have recently created 5 steps to designing a bedroom.
We can certainly help you achieve a larger space using brighter colours, monochrome interiors and small accessories, but this only gets you so far. The secret to larger a fitted bedroom is most definitely clever design, prioritising on usability.
TIP: Draw a quick sketch of the room, from above. Highlight the most circulated areas of the room and incorporate your storage ideas around it.  Work on the principle that you should be able to find what you want easily, without moving around the bed to reach them. This might sound silly but in reality you don't want to compromise on accessibility. 
4. DRAW A STORAGE PLAN
Every successful room starts with a plan. This doesn't have to be to scale or even very neat. 
With an idea of your storage goals and knowing what you wear mostly you should be able to draw a quick sketch, detailing what you wish to achieve from each area of the room.
Deane work extra well with a pre-design layout. If you know what you want chances are we can make it a reality.
TIP: Jot down a quick face on view of the storage area. Take a minute to consider what you have, and of course what you're going to have. Draw out your desired storage plan and send it to us. We'll provide a quick quotation so you know where you stand on price.