When considering the cost of sliding wardrobes, there are a number of factors.
Firstly, being a made-to-measure product, you can expect a 'per foot' price, or a price band according to the optimum number of doors than can be fitted into your available space, as there are manufacturing limits to door sizes. Bigger doors are usually better as they allow the best access, always remembering that doors slide behind one another when open. Smaller doors don't work well and tip when you push them, which is why a wardrobe under around 4' is not recommended for a sliding system.
There is an optimum number of doors making up the total wardrobe according to your overall opening width; for instance, you would have two doors up to a width of 7', three doors up to a wardrobe width of 10'. Four doors up to 14'. Other considerations are;
Wall to wall wardrobes are cheaper than to a stop end or end panel, more material is required.
The more detail you include in the actual doors, the more the price will be. Mirrored glass is the cheapest method of making a door panel, however many materials to integrate into a decorating scheme, or to your personal preference will always vary the cost – usually upwards. Lacquer glossy glass, wood or leather look panels or even wallpaper can be used as your wardrobe door panels.
There are a variety of sliding frames from aluminium in contemporary narrow or wide profile in brushed, black or bronze to luxurious wood effects that blend with traditional interiors.
The interior – keeping it simple keeps it affordable. The more shelves, cubby holes and drawers you include adds to the cost. We all envy a luxury dressing room however, and it's a pleasure to have a place for everything behind doors.
Having said that, Deane sliding wardrobes start at £1,220 for a wall to wall wardrobe up to 7' wide, including VAT, installation and an interior layout for a shelf stack, top shelf and hanging rails. Everything in fact, to start filling it before your installer has started his van to leave your drive!
Overall, in terms of storage space gained per pound spent, sliding wardrobes are often cheaper than a freestanding alternative of equivalent quality which will leave gaps and dust traps. They also have the massive advantage of being a wise investment in your home.
SLIDING WARDROBES WITH SHELVES.
Storage with sliding doors can be used for many purposes. There isn't a room in the house that cannot have its use enhanced by one, given enough space. Usually a depth of 635mm is required to store clothes, however, if the only use is shelving any depth is possible, remembering to allow 100mm for the track and doors. Most people think of a wardrobe for clothes when they see sliding doors, but a 6' floor to ceiling unit with all shelving could hold up to 76 box files or is over 2 cubic meters!
Here are a couple of examples of client briefs for pure shelving behind sliding doors;
THE MULTI USE FAMILY ROOM OR STUDY.
Increasingly, larger homes have a bonus room. The storage must have everything for a busy family side by side in a compact area. Mum and Dad's household accounting will need a couple of filing drawers inside, maybe lockable, fitted snugly underneath Mums art and sewing stuff shelves. That collection of DVD's that just cannot be parted with alongside the boxes of Lego, old photographs, heirlooms, wrapping paper and ribbon – you get the message… sliding doors that shut all the clutter away with a simple nudge, ready to be used when required, but hidden away when not.
THE OPEN PLAN HOME
A large space that is used for living, cooking and entertaining can become cluttered and untidy very quickly. Use a sliding wardrobe with shelves inside as a room divider or with mirrors to open up a space or recess at the end of a walkway. Uses for a fully shelves inside include a safe place for special crockery or overflow kitchen appliances such as a bread maker or a food processor. Set up your own bar area with wine, spirits and glasses, (we can even put up your optics!) and with space all the way to the ceiling, there's room for the most avid collector, cook or host. You can even fit a whole office inside one, complete with kneehole, computer, bookshelves and printer! 
Ah, the dream of a clutter free hallway at last realised. Apart from the everyday stuff, there are dog leads, motorcycle helmets, school and gym bags and outdoor hobby paraphernalia to accommodate. Easy to clear away and importantly, found next time, no more where's my …?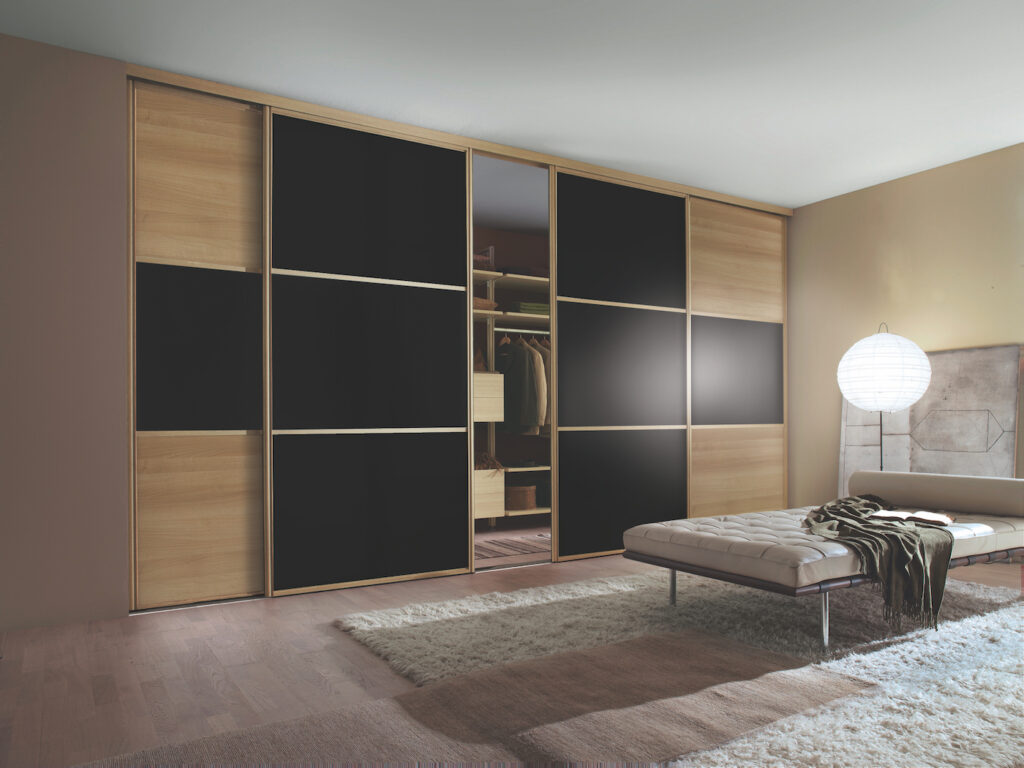 SLIDING WARDROBES MADE TO MEASURE.
Why choose a made to measure sliding wardrobe and not a Swedish flat pack or a quaint shabby chic armoire?
Here are 10 good reasons;
Use every inch of available space, floor to ceiling, wall to wall
Less dusting – no spider hiding places to either side or above
Using mirrors for all or part of the doors opens up the room and makes it feel bright and spacious
Expertly installed for you, ready to use without any hassle
Sliding doors can blend into the room, allowing other furniture styles to shine. They CAN live happily alongside antiques and individual pieces with no clash of styles
Miles more storage than any freestanding wardrobe, with space for shoes, bags and drawers if required
A great built in investment into your home, and an extra selling point if you decide to move on
Great for attics and loft conversions – you can't get a full wardrobe upstairs, and the ceiling height is usually lower than normal, sliding door wardrobes are a perfect solution
The best quality available, inside and out, guaranteed. No flimsy chipboard or painted plywood that looks good until you start to use it
They're manufactured locally, and handmade right in your home by craftsmen, making it truly yours