As bespoke fitted bedrooms are becoming ever more popular you might be thinking about how it could work for you.
Well, why are they so popular?
More and more people realising the incredible benefits of having a storage space tailored specifically for you, in a  design that reflects your individual personality and flair, while working with the space you have, no matter how awkward.
One of the key benefits is complete flexibility with style. There are no limitations to what you can achieve with the design of your fitted wardrobe, with variations of shape, colour and finish. No matter how awkward or small the space you have available is, a bespoke fitted wardrobe can be built to work with exactly what you need. 
By having a fitted wardrobe, it means slopes and angles like we've worked on here are no bother!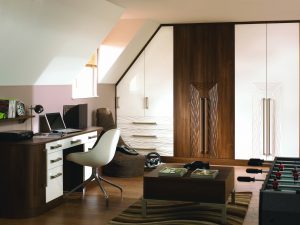 By creating storage into the more difficult area's, it maximises floor space while creating a design perfect for your room and taste. 
Fitted bedrooms don't need to stop simply at the wardrobes, using the same principle we can create made-to-measure bedroom features to completely change the room, like this design we put together for a client!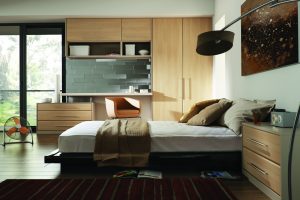 If you think a fitted bedroom might be the key to changing the whole feel of your room and providing you with some much needed additional storage, then why not have a chat with us about your project?