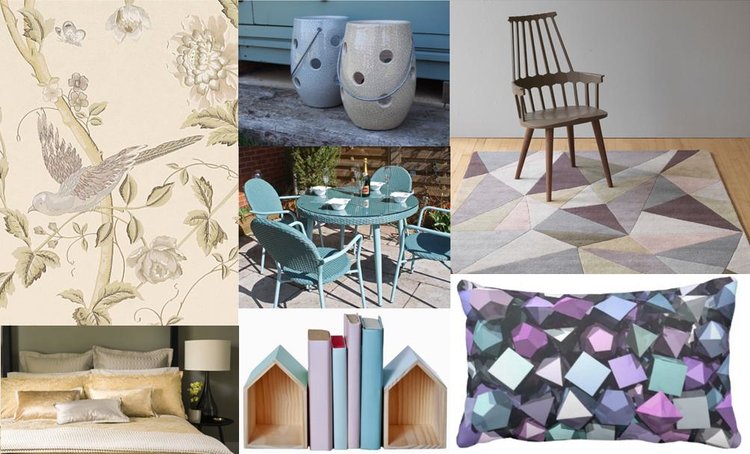 We love pastel colours as they suggest everything fresh and new, whatever the time of year. The days may begin to get colder but why should that dampen your emotions? Pastel colours subconsciously  make everyone feel happier.
Let's start outside in the garden…when the weather gets colder, we all still love to sit outside around a fire or a chiminea with a glass of wine, beer or even a hot chocolate! The Hampton 4 Seat Rattan Furniture Set, finished in pastel blue, brings a spruce of colour and comfort to any garden patio.  As the night draws in, place some tea lights into ceramic lanterns from Pastel Lane.  Mystically light up the garden by hanging from trees or positioning the lanterns in various places in the garden.
Bring pastel colours into the home with the Linie Design Mirina Pastel Rug from Heals.  The wonder of this rug is that it will go with many existing colour schemes as it brings together pinks, greens, blues and purples in a creative fashion.  Pair it up with Zazzle's Pastel Bling Throw Pillow for a geometric fusion of colours!
While we're discussing the inside of the house, we found Laura Ashley's Summer Palace Taupe/Ivory wall paper.  This is a fantastic addition to any bedroom with its calming country birds and floral design, whether as a feature wall or all around.
Are your books looking disorganised and toppling over? These pastel house wooden bookends are a perfect way to keep them all standing in a neat line.   Place some of small trinkets into each to add your personal touch.  If these are placed in your childrens' rooms to keep their bedtime story books in order, place some of their smaller toys in the open space or even decorate the interior to personalise each one to your child/children.
Colour experts tend to say that yellow is a too much of a vibrant colour for the bedroom as instigates strong energy causing you to stay awake at night.  What if you were to pick a soft yellow, like this duvet cover in chamomile?  The tones are just soft enough to allow you to fall into a deep slumber yet, first thing in the morning, wake up bright as a daisy!
Deane Interiors range of bedroom furniture suit various styles and decors.  We offer a truly bespoke service and do what we can to ensure you receive the style you want.  Get in touch now for your free home visit.