We often have clients that sheepishly bring us a photograph from Pinterest, Houzz or a magazine, saying 'I love what you do, but I like this…' maybe they think we might go all haughty and precious, but on the contrary, we love the challenge and it's great when we can replicate a look that our client already loves, ultimately meaning that they'll avoid all those choices that often are a chore.
On this occasion, the picture showed a lovely painted wardrobe in a period home in London, built by a joinery company who work only in wood. Now I love wood just as much as anyone, but in fitted furniture terms it has limitations. The tall doors have panels and stiles, and these are jointed to make the door. Then the joins are filled and finally painted. Unless the wood used is of sufficient thickness and stability the door may warp and bend due to atmospheric conditions, and the filler might crack – so quality and type of wood is a key factor. This inevitably has a bearing on the cost. Hence, the simple style has a lot going on to make it suit the modern home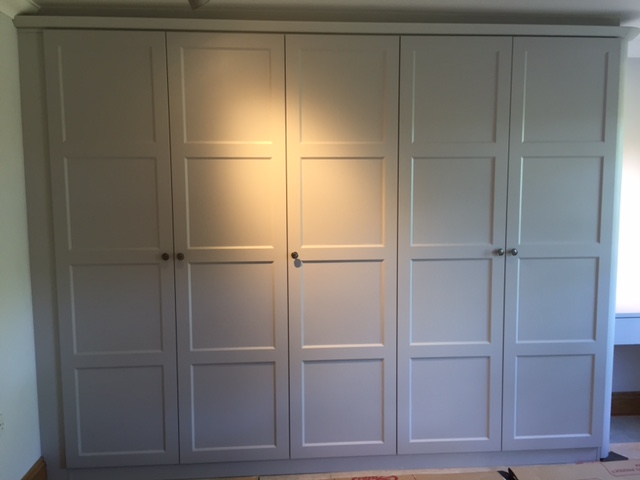 When we saw the picture, after a bit of thought and a few questions we came up with an idea of what we could do to produce a similar look with more stability at more affordable cost. The newer plain finishes available in our doors are really hard wearing, washable and stand up to any family wear and tear. The MDF core is wrapped in a thick vinyl finish that lasts and stands up to knocks and scuffs.
Colours are soft and natural, Dakar, a soft greeny-grey, Stone Grey, dark and atmospheric, Soft Grey, shown here, Mussell, a fashionable chalky white, Cashmere, a beautiful taupe shade, as well as white and cream. All these colours are available as a smooth finish or with a wood grain texture. In addition, matching end panels, frames and shelving make a totally co ordinated installation that's a delight to look at and a pleasure to use every day.
Next we looked at the style – the picture showed a four panel door which we don't do, a five panel door in a more modern style was however available. Hmm. This four panel door looked best with the panels squarish – so, we looked at the total wardrobe length and took a door away, making the remaining doors wider than we would normally install. This gave us the proportions we wanted, and an amendment to the cutting program allowed one less panel. So, that's how we achieved the look. Our client is delighted with the result, and here's her letter.
I have been meaning to put in writing how pleased I am with our new fitted wardrobes.  The design, quality and fit of the wardrobes have surpassed our expectations.   The whole experience; from the original visit to our home by Anne, through to refining the details in your showroom and then having Clive fit the wardrobes, was smooth and effortless.  The advantages of an owner / managed business such as Deane Wardrobes become clear when making the final tweaks to the design to accommodate our needs as the flexibility is there to ensure the design satisfies our needs and wants rather than the other way round.  This is something that just isn't possible from the larger high street chains.   Your carpenter, Clive, was polite, professional and diligent during his two days fitting the wardrobes.  He is highly skilled and he worked conscientiously right through to a late finish on the second day to ensure the job was completely finished with no corners cut.  I now admire the wardrobes on a daily basis and they have proved an excellent storage solution for our master bedroom.