We use our wardrobes every day so why not consider adding a few accessories to your ideal closet wish list to solve the niggling storage issues we choose to ignore by just coping with what we've got. With a bit of planning and by simply incorporating additional handy accessories, you're guaranteed to never have a problem finding what you need.
1. PULL OUT SHOE RACK
Adjustable pull out shoe racks are the perfect storage solution for your shoes. As the rack fully extends, it means you have total access to all the contents without the issue of hunting amongst the front row to get to the back!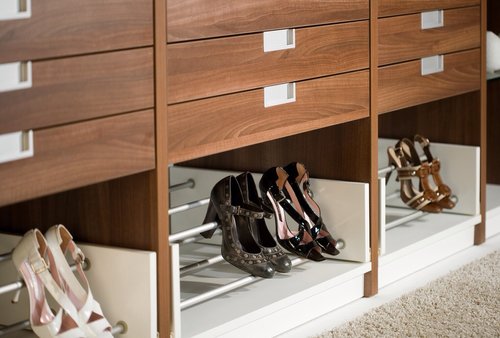 2. TIE & BELT RACK
Many of us seem to bury our ties and belts in a drawer and when the time comes to finding one we  have to empty half the contents to find what we were looking for. This can easily be solved by fitting a rack to the inside of your wardrobe where you can hang your belts, scarves and ties neatly. It doesn't impact on the space internal, but will definitely help to keep things in order.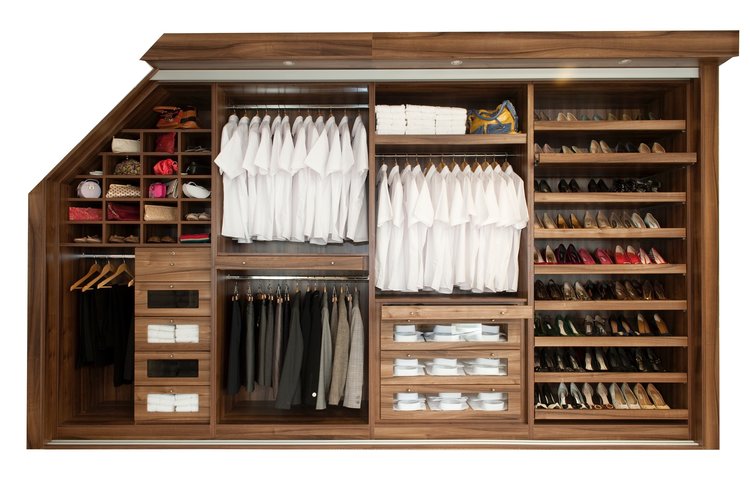 3.  PULL OUT TROUSER RACK
If you have limited space for hanging in your wardrobe or your trouser hangers seem to grow legs and run away every time you come to put the ironing away, a trouser rail may be what you need. Not only does it tidily hold the trousers, it also means that you do not need to worry about having a large section of your wardrobe taken up with full length hanging. The trouser rail is fitted at the bottom half of the wardrobe so you gain extra hanging or shelving space above.
4. METAL BASKETS
Sometimes it is easy for things to get lost at the back of the shelf – the full extendable, pull out metal baskets mean you are able to gain complete access. The baskets come in tiers of 3, perfect for storing not only clothes and linen but any other knick-knacks that need a home in your wardrobe.
5.  LAUNDRY BASKET
If you do not have much floor space in your room and are fed up with having your laundry basket on show, an ideal solution is to pop it inside your wardrobe. We offer a few variations of how you can incorporate the basket into your wardrobe and as your Deane designer will plan your space meticulously, and then have it made to measure, you don't need to worry about it taking up too much space.
6.  DRAWER DIVIDERS
Drawer dividers can be very useful. Whether you are wanting several small compartments for jewellery or larger sections to separate your socks from your underwear, we can make them to any specific sizes.
7. LIGHTING
Dark wardrobes can sometimes make for a tricky outfit choice in the morning. Corner wardrobes can be particularly dark, having lights will make a huge difference. Replace ordinary hanging rails with illuminated rails like these, or add or light rails for under shelf use. Our LED lights are motion sensored and will automatically turn on when the door is opened and off when the door is closed. Our range of downlights are available 
both mains and rechargeable by USB.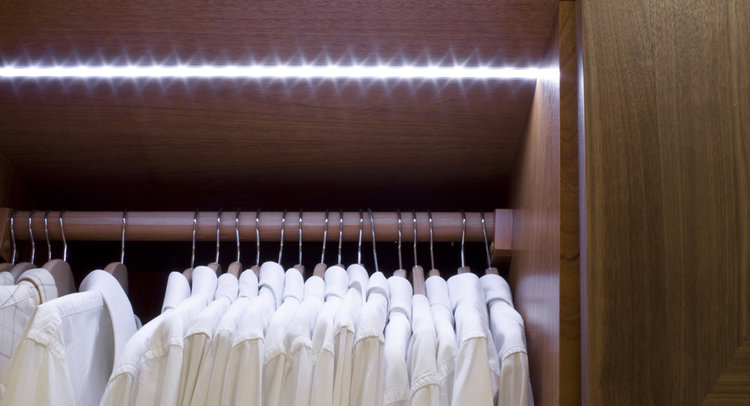 Our designers are here to help you create wardrobes tailored specifically for your needs, these are just a few of the wide range of accessories we offer that will help with storage solutions.
 Pop into our Fareham showroom to see some of these products or discuss with a friendly designer how we can help you make your days start with speedy efficiency. Or call us on 01329 822446 to arrange a home design consultation.