Follow these five fitted bedroom ideas to create a well-designed space unique to your individual preferences. By following these steps, you can achieve a great level of storage without using a great deal of floor space.
1/5. MAXIMISE YOUR FLOOR SPACE.  
The first of our five fitted bedroom ideas to include when planning your space is to maximise your floor space. The secret to a great floor space is to have the most used areas on one side of the room. 
Many new hotels and housing developers do this very well, which is why most new houses have the entrance door and the en suite on the same side of the room. This creates a channel for movement and a separate area for relaxing and sleep.
Bonus Tip: To save on space, pay attention to where the bathroom is situated & organise the room circulation so that the en-suite & high-use clothing is easily accessible in a single area of the room. This way, sleeping areas are unaffected, as the circulation space is simple, making your room feel larger. 
Our designers always make a mental note of where you spend most of your time, generally near the entrance door & en-suite. Once you understand this path, everything else will fall into place.
We find clients commonly overlook the view from their windows when they design their bedrooms, which is why we have placed it in position 2/5 of our fitted bedroom ideas.
A bedroom always feels more inviting when the layout is designed using a backdrop. Whether it be a beautiful landscape or your back garden, try to ensure your design focuses on the vista.
As a rule, we avoid looking straight at the bed when you walk into a room. 
Bonus Tip: If you are looking for a new bedroom layout, design your room with the window in mind. If there is an amazing view out your window, use it to your advantage.
It's always a good feeling when your bedroom door can be left open without giving up all your privacy. As a result, our designers try to avoid having the bed directly in view when you walk into the room.
Bonus Tip: Aim to make your room a private space. Except for children's bedrooms, you can make your room discrete by simply avoiding your bed being in view of the door.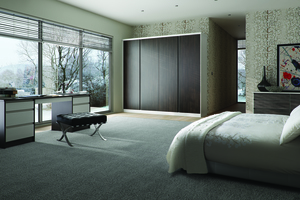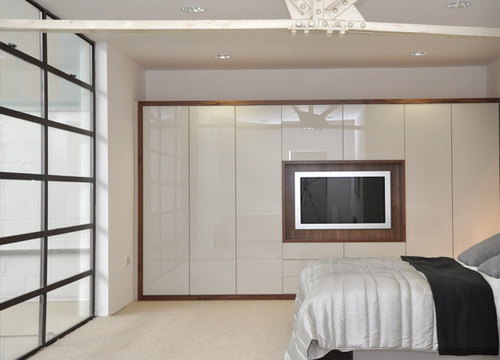 Lighting is an important factor when designing a great bedroom. It is critical to factor in where the natural light is most used and position the bed and storage units around this spot.
Bonus Tip: Make a note of where the natural light is focusing and build your room around it. We always recommend avoiding placing tall wardrobes and top box units near your windows; however, use the darker areas of the room as your available storage space.
Great design takes time and patience. We always advise our clients to understand their requirements in full before planning a new design. This understanding can be as simple as needing somewhere to plug in your electrics in the morning or the positioning of the TV.
Bonus Tip: Make a list of 3 must-have requirements, taking these into account when the design is completed. A space that functions well and is easy to maintain is a lot less work. A functional design built around your trends and requirements can last years, so why rush, take your time and enjoy the process.
Hopefully, these five fitted bedroom ideas have given you some food for thought and got you thinking about how you can create the best bedroom possible. Alternatively, you can leave it all down to our interior design team, carrying out an end-to-end service, ensuring all factors have been considered. Trust the professions, with all of our designers, fitters, and technicians holding all industry qualifications required, as well as years of experience in all areas of bedroom design.
Contact our team for more information and to get your fitted bedroom design process started.