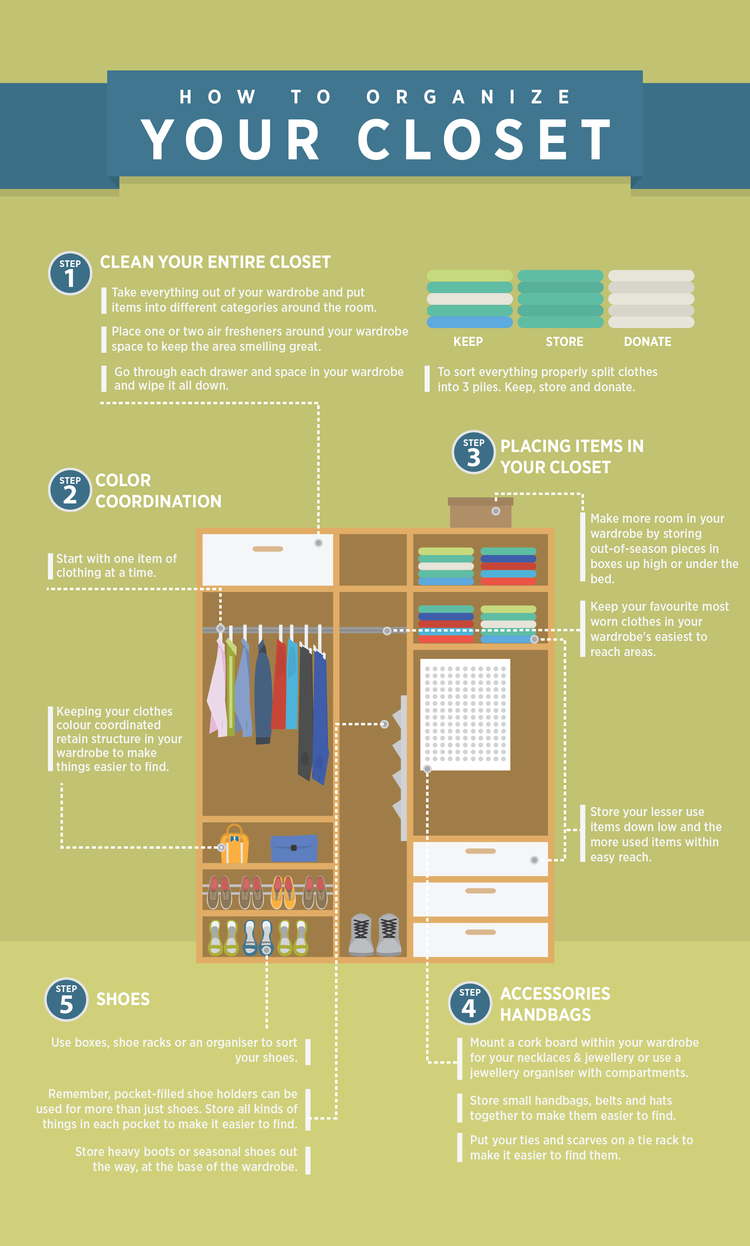 1. CLEAN YOUR ENTIRE CLOSET

Take everything out of your wardrobe and put items into different categories around the room.

Place one or two air fresheners around your wardrobe space to keep the area smelling great.

Go through each drawer and space in your wardrobe and wipe it all down.

To sort everything properly split clothes into 3 piles. Keep, store and donate.

2. COLOUR COORDINATION

Start with one item of clothing at a time.

Keeping your clothes colour coordinated retain structure in your wardrobe to make things easier to find.

3. PLACING ITEMS IN YOUR WARDROBE

Make more room in your wardrobe by storing out-of-season pieces in boxes up high or under the bed.

Keep your favourite most worn clothes in your wardrobe's easiest to reach areas.

Store your lesser use items down low and the more used items within easy reach.

4. ACCESSORIES & HANDBAGS

Mount a cork board within your wardrobe for your necklaces & jewellery or use a jewellery organiser with compartments.

Store small handbags, belts and hats together to make them easier to find.

Put your ties and scarves on a tie rack to make it easier to find them.
5. SHOES

Use boxes, shoe racks or an organiser to sort your shoes.

Remember, pocket-filled shoe holders can be used for more than just shoes. Store all kinds of things in each pocket to make it easier to find.

Store heavy boots or seasonal shoes out the way, at the base of the wardrobe.
Want to know more? View our walk in warrobes.