We all look for some guidance and suggestions to decorating our homes, inspiration is key! Your bedroom is no different!  As your sanctuary of relaxation at the end of a long and maybe stressful day at work, you want to be able to sleep peacefully every night.  With that, we are going to tell you the 10 features you should be including to create a soothing bedroom.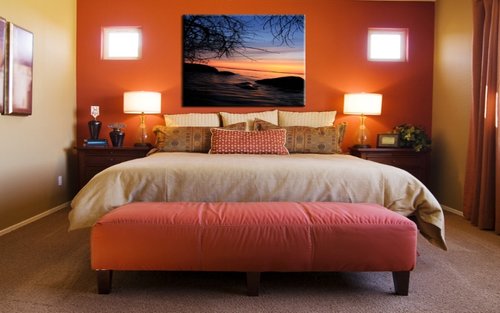 1. SUITABLE BED
I know it sounds obvious, but choosing the right bed can make a tremendous difference to how you feel in your room.  Some like to have a soft mattress that when you lie down you sink right into it, while others prefer a firm mattress for additional support. Whichever you prefer, make sure that the mattress you buy is the perfect firmness for the most comfortable night sleep for you.
2. COMFORTABLE PILLOWS
It's a must to have the right pillows to give you best support for your head, neck and even your back.  Choosing the right pillow(s) to suit you will ensure you get a better nights' sleep and wake up completely refreshed and energised in the morning.
3. CORRECT LIGHTING
It's important to have appropriate lighting in your bedroom as it is a major factor for creating a soothing environment.  Think about what features of the room you would like to accentuate, lamps are perfect for this.  We also recommend a reading light perhaps on or by the bedside table for a bit of bedtime reading.
4. COLOUR CHOICE
Colour can be a major over sight!  There have been many studies to reflect the choices of colours in the bedroom; go too bright and your mind will be working overtime.  Some of the best colours are blues and greens – these reflect nature and give the room a calming influence. Take a look at the colour wheel for ideas.
5. WINDOW COVERINGS
Being able to create an environment for sleep and relaxation, the ability to block out light is essential.  The ideal solution would really to have a double layer, a sheen layer to block direct sunlight and a second to block out the remaining light.  Alternatively, simple curtains or blinds work too, providing light is blocked through the window.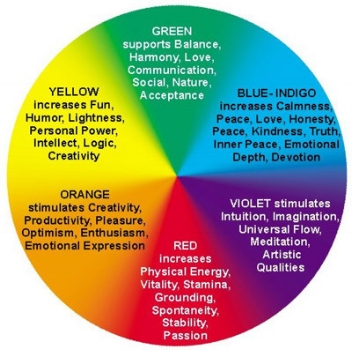 6. CARPET/RUG
Everyone loves climbing out of bed and placing your feet onto soft carpet and wiggling your toes.  For wood floors, invest in a plush rug to soften the floors and give a luxurious texture to the room.
7.  ARTWORK
Using various paintings, pictures and decorative items on your walls help to create texture against plain backgrounds.  It's also a wonder what a simple piece of artwork can do for your mood!
8. PERSONAL ITEMS
The personal touch is everything in your room: this includes photographs of friends and family, small keepsakes from various memorable moments and other decors.
9. TECHNOLOGY FREE
In this day and age with technology everywhere, we all have smartphones or tablets and sometimes it's difficult to separate with them.  When going to the bedroom all electronic devices should be left in another room; without your phone to distract you with social media and games, you are more likely to drift off to a peaceful sleep.
10. ORGANISATION/STORAGE
A tidy room is a serene room.  Without clutter surrounding you, your mind and body have the chance to unwind without stress or worry.  You should always have a place for all your items, whether that means neatly kept away in drawers, displayed on shelves or in cupboards.
Deane Interiors can help you through the stages of designing your fitted bedroom.  With over 30 years experience in the industry, we are here to help you get the most out of your room.  Start your journey to your bedroom sanctuary with a free room measure, design and quote from one of our expert designers.