fitted angled WARDROBES
IN HAMPSHIRE
Deane Interiors have long been associated with providing bespoke storage solutions within angled ceilings and dormer bedrooms. While our methods have changed over the years our desire to provide simple, multi-function wardrobe storage to any shape room has remained constant.
Available in both sliding wardrobe solutions and using conventional opening door wardrobe configurations we design and build a comprehensive range of fitted angled wardrobe styles and colours to suit any requirement or budget.
Get in touch with us to arrange a time to pop to our showroom in Fareham and enjoy a coffee and a chat about your project ideas. Our expert wardrobe designers will work with you to create the perfect angled wardrobes and fitted storage solutions for your home.
Firstly, you visit our showroom to get inspiration for is possible with your space. Then, we offer a free, no obligation, no hassle design appointment in your home.
Come to our showroom, just a few minutes from J11 M27, bring your room measurements (don't worry if they're not dead accurate), and a friendly designer can walk you through the options and prices.
If you are then ready, we'll then pop over to you to check everything and confirm the details.
Don't worry, we're very different. The appointment takes 30 minutes normally and we don't then camp in your house until you order. Great for those who don't like pushy sale tactics.
When you're happy, place your order and usually 4-6 weeks later our installer will arrive to hand build your wardrobe for you, usually within one day.
looking for something else?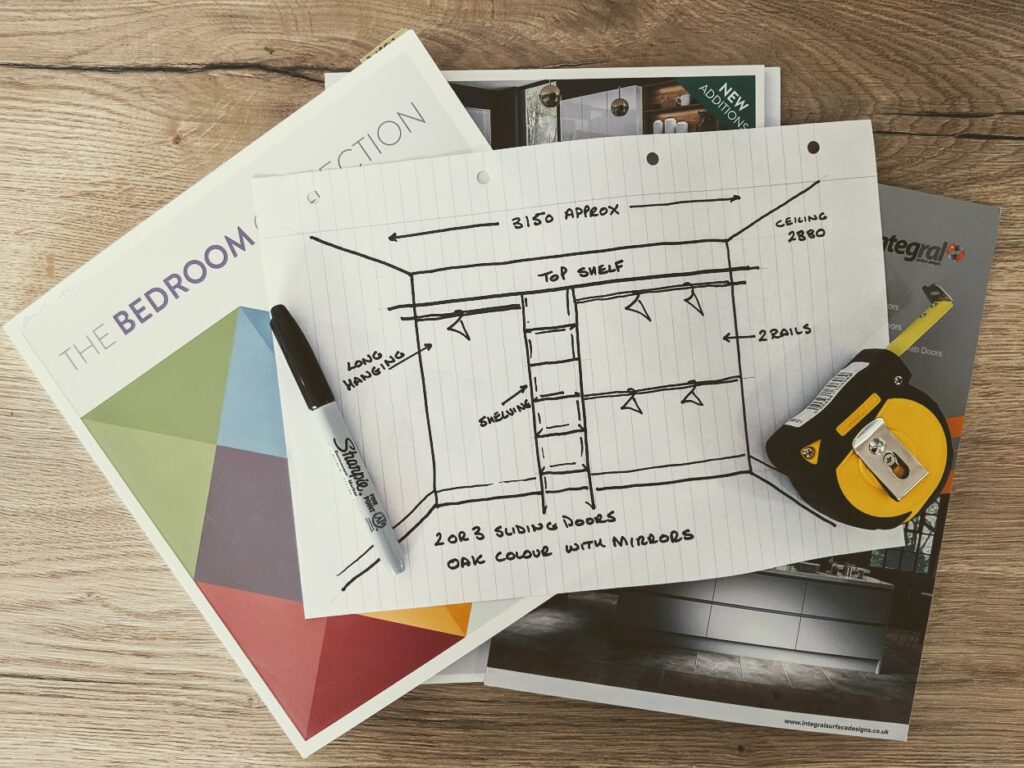 LET'S START TALKING ABOUT YOUR PROJECT
We like to keep things simple – just upload an image or sketch or let us know a quote you've receive elsewhere, with the rough dimensions of your space and we'll get in touch with you with a CAD design and a rough quote for your project!
Ready to get started?
No other showroom in the south can bring you this choice – visit us soon! From the European styling of the Noteborn range of sliding wardrobes, to simple and practical aluminium smooth sliding doors or our exclusive luxury soft form wood frame wardrobes, you experience a choice simply unavailable in any other showroom.
Infinite combinations of glass, wood effects, designer effect panels and also specialist fabric mean you can become the designer and create your own completely unique sliding wardrobes. This gives you unlimited combinations to co ordinate with your existing décor or make your own style statement."
Pop in to our showroom, bring your sizes and enjoy a coffee and a chat with an experienced, friendly designer and leave with a design and a price for your project – straightforward and simple.