Deane have specialised in made to measure storage solutions since 1979.
We create custom furniture and storage solutions for homeowners and luxury home builders who appreciate quality, flexibility and affordability.
A truly family firm, we currently have two generations working daily for the company in every aspect of our business. Many of our team have been with us for more than a decade, making them part of the wider Deane Interiors family!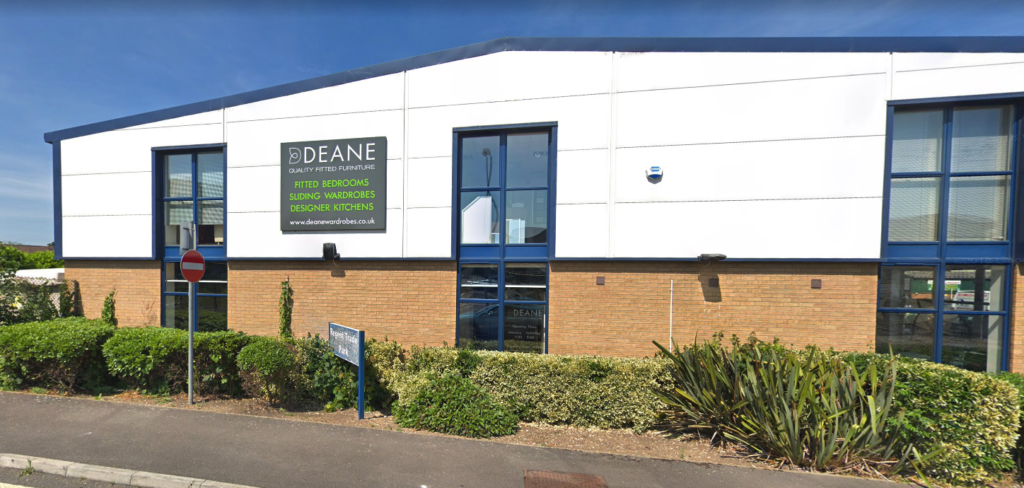 Our designers, workshop team and installers only consist of conscientious and straightforward people. Our customers prefer our 'no hassle' approach, we don't use pushy sales techniques – we just offer straightforward pricing combined with an exceptional service at every step, resulting in happy customers who consistently recommend us to their family and friends, knowing we won't let them down.
The Deane manufacturing facility in Fareham produces all bedroom furniture to your individual design requirements. Every wardrobe and drawer unit is handmade to the millimetre by local people, who care about getting each job right for our customers, while maintaining affordability.
All of our kitchens are made in England by our carefully chosen partners Mereway Kitchens, also a family run company whose expertise in manufacturing and skill in producing the latest in kitchen trends, colours and innovations make them one of the industry leaders.
Stuck with what to do? Need a little help working out your storage solutions and where to put everything? With over 18 years experience, we can help!
We offer a free showroom consultation to all new clients. Visit us to chat with one of our professional designers about your project, and get all your questions answered.
Bringing your sizes and a couple of phone snaps makes it much easier. Get great advice and inspiration, and browse our extensive showroom over 2 floors to really make a start on your project, knowing you have experience and expertise on your side.
Our beautiful showroom in Fareham, just 5 minutes from J11 M27 offers a wide range of inspirational ideas for your ideal storage solutions, and you're welcome to browse at your leisure. Coffee anyone?
Products – we consistently monitor trends to offer the latest styles for bedroom and kitchen furniture. Colours, door types, new gadgets and appliances, our team keep themselves well informed and the showroom current so that you benefit from the most up to date innovations.
Ranges – all under one roof we offer luxury and everyday sliding wardrobes, the best choice in the area, bar none. Fitted bedrooms that exceed the most discerning expectation for choice of colours and styles, every door in every colour, 28 styles in 36 colours, whew! Closets and interiors to get you organised totally. Kitchens in contemporary glosses and real painted wood to capture your style perfectly. Fabrics to provide you with the finishing touches, all available to specify in one go, easy peasy!
Service. A word often used but seldom fulfilled. It's the source of everything we do, our customers tell us so.
Reputation – Our local reputation as a source of high quality, affordable fitted furniture is unrivalled, and a great majority of our work is gained through recommendation by ordinary people and professionals.
Our team – With a full team off in house designers and installers we do not out source any of our work. This guarantees your own high standards are met at every stage of your project.
We stand out from other 'fitted furniture' companies because unlike them we make to measure, not to fit. No bulky fillers to make standard units fit. Our wardrobes in both sliding and traditional hinged style, our drawer units and shelves are all made to measure, millimetre by millimetre. There's obviously framework required, but we keep it to a practical minimum where possible.
'Awkward spaces our speciality' – difficult architectural features such as beams, sloping ceilings, tight stairways, we've seen and dealt with most challenging problems. Our competitors even recommend us sometimes when they can't overcome a challenge, but don't tell their bosses!
Our kitchens can also be tailored to fit awkward and difficult spaces. Mereway work with us to ensure that each design dovetails perfectly and maximises every inch of space. Because we have a manufacturing facility too, we can also build or amend units easily and quickly.
Our straightforward transparent pricing policy makes us special too – no gimmicks, no false discounts or 'sales' to insult your intelligence, just fair pricing from our price list. You can even price a sliding wardrobe yourself!